Saturday in the fall means a lot of different things to different people. For my wife and I, it means college football season! In the south it isn't hard to find someone excited about college football. A couple weekends ago my wife and I decided that we needed to go see the UT Vols home opener. We made the trek up to Knoxville and walked around the campus taking in all the smells, excitement, the pageantry, and the glory that is college football!
College football has so much to offer for entertainment. Besides the game itself, there is so much more that is involved in a game day experience. As soon as you step out of your car you will be immediately greeted with aroma of someone grilling at their tailgate. The smells of sausages, burgers, and other grilled meats fill the air making your mouth water and craving all these amazing foods. Also, there are so many activities taking place. We walked around campus checking out several people's tailgates on our way up to Vol Village. This is at the epicenter of all the tailgating. We checked out several of the sponsor booths and came away with all sorts of swag. We even made our way to the Farm Bureau Member Savings tent to pick up some clear bags that we could take into the stadium, which was a nice plus! If you have kids there are all sorts of inflatables and games to keep the occupied.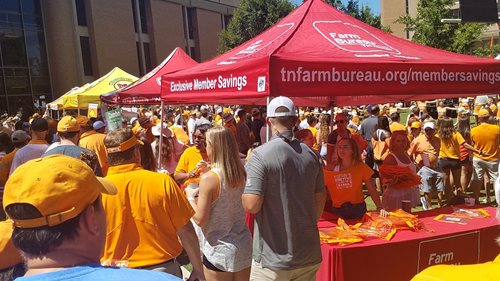 One thing that greatly differentiates college sports from pro sports is the pageantry. Something you can't miss when you go to a UT game is the Vol Walk. Thousands of people line the streets of campus before the game to get a glimpse of the Pride of the Southland Marching Band. The Vol Walk has something for everyone such as cheerleaders, the marching band, Smokey, Davy Crockett, and thousands of fans cheering on their team. The sounds of game day go marching by getting everyone pumped up for the big game.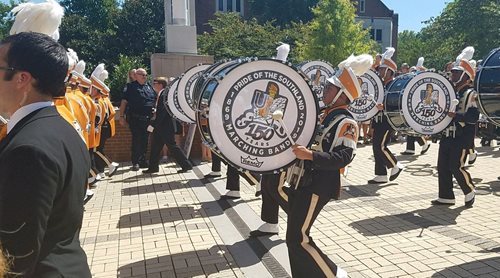 Now, if you have never been to Neyland Stadium it is quite the experience to take in. I didn't grow up in Tennessee so I didn't understand the passion for college football until I moved down here. Neyland Stadium is one of the largest college stadiums and when full of fans can be quite the site. The games are so much fun. You can see and feel the excitement from everyone around you as the football team runs through the T as they come out of the tunnel to start the game.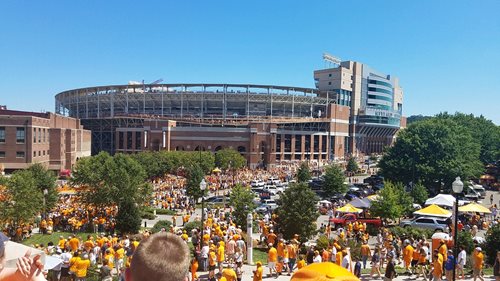 If you are looking to get out of the house and find some adventure, go to a college football game. Win or lose there is a good time to be had by all!