It's been a long-standing tradition for my youngest daughter and me to get up early on Saturdays, grab a coffee at our favorite spot and hit the local farmers' market as soon as the produce starts rolling in…usually in late May. And we continue our weekly visits until the last of the apples and pumpkins are gone in the fall.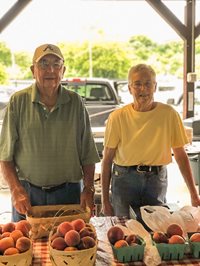 Our home state produces an abundance of tasty fresh fruits and vegetables and our usual picks include sweet corn, green beans, blackberries and squash. But there is one that stands above all the rest – the juicy, sweet tomato.
When I was young, I can remember taking a salt shaker to my Granny's garden and eating tomatoes right off the vine. Nowadays, I try to be a bit more civilized and at least use a napkin to wipe up the juice when it runs down my face and arms. 
Our primary use of summer tomatoes is the classic tomato "sammich" -- white bread, mayo, salt and pepper – and, of course, the ripest of tomatoes. 
Another great way to use these delicious beauties is to put them in a pie. Here's our favorite recipe -- hope you're enjoying Tennessee's summer bounty as much as we are!
Tomato Pie
15 minutes Prep | 35-45 minutes Cooking (Total 1 hour)
Ingredients 
9 inch pie crust (make your own or buy the refrigerated kind like we do!)
3-4 good-size ripe tomatoes (enough to fill the pie crust)
Salt and pepper to taste
¼  cup sweet onion, thinly sliced
1 cup shredded cheddar
¼ grated Parmesan cheese
½ cup chopped, fresh basil
Preparation
1. Slice tomatoes and place on paper towels to drain for about 10 minutes.
3. Bake pie crust at 450 degrees for 8 to 10 minutes or until lightly browned.
4. Add onion slices to the bottom of the pie first and then the tomato slices on top. Sprinkle with salt and pepper.
5. Sprinkle half of the chopped basil on top of the tomatoes.
6. Combine Duke's, shredded cheddar and Parmesan and spread over tomatoes.
7. Sprinkle the remainder of the basil to the top (you can also add a couple of tomato slices to garnish if desired).
7. Bake at 350°F for 35-45 minutes (until cheese is melted and slightly browned).